Task submission
---
Task submission
---
XRender Client Use Guide
After downloading the XRender Client and get the R coins by recharging with the XRender vouchers, you can now start a free test with XRender. Follow the steps below and boost your rendering with XRender now!
Login
a. To start cloud rendering with XRender, please login to the XRender Client and turn to the operational panel first.
b. In order to have a better using experience, please update your client when the prompt message pops up.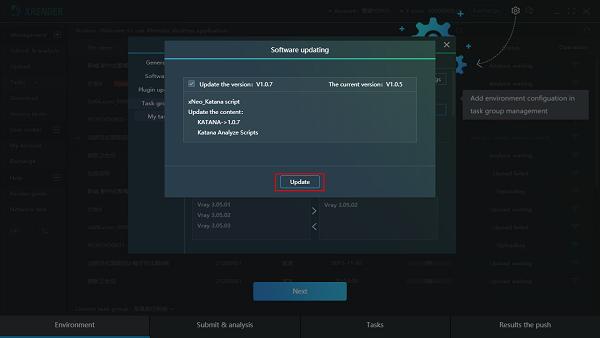 ---
Configure Rendering Environment
To boost rendering, please configure the rendering environment based on the parameters of your 3d projects.
Please follow the steps to set these configuration:
a. Choose the default task group or create a new task group for your project.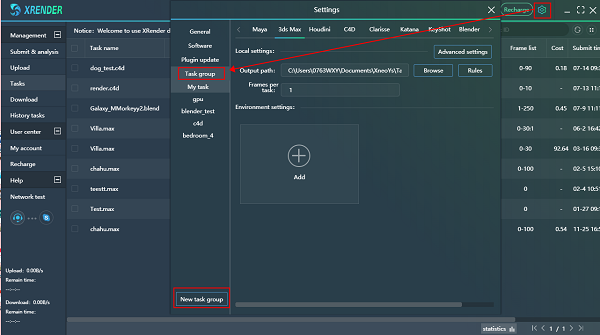 b. Choose the 3d software you need for your project and make corresponding settings according to the content displayed in the client settings panel.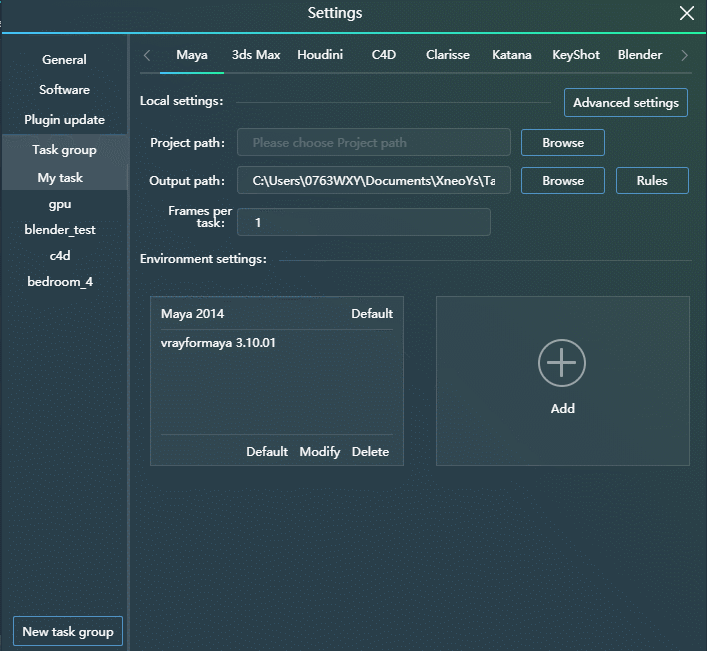 c. Setting done. Now you may close the setting panel and submit your task to XRender.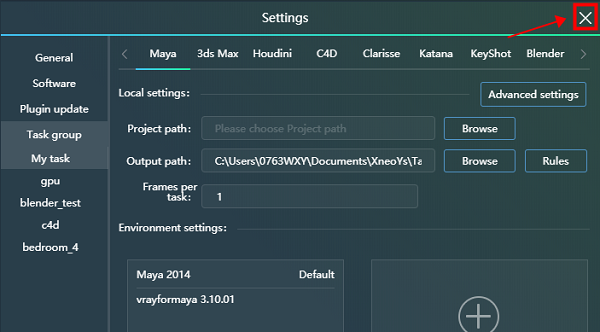 Submit to XRender
XRender optimizes its product according to a variety of user habits, and now supports the following three submission modes:
Drag to submit
Drag and drop your files to task panel. XRender supports batch submission and you can submit multiple files at one time.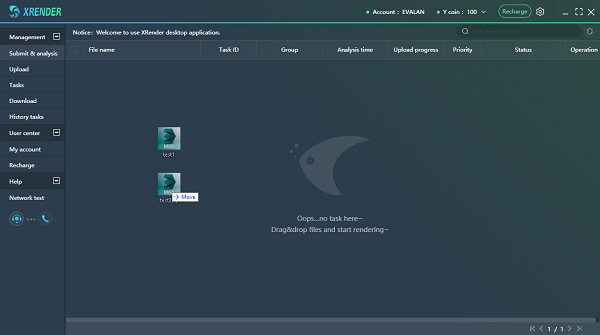 Copy to submit
Copy (Ctrl+C) you file and paste (Ctrl+V) at the task area. Batch submission is supported.
Right click to submit
Right click and choose "Submit to XRender client" and you can submit at most submit 15 tasks at the same time.

Choose the task group, software and machine you need and submit to XRender.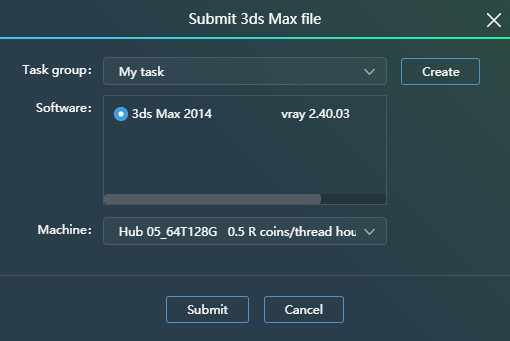 ---
Task Analysis
About analysis status
The intelligent XRender Client will analyze your files automatically before uploading.

If the status of your file is "Analysis done, please submit", please right-click and set parameters before submit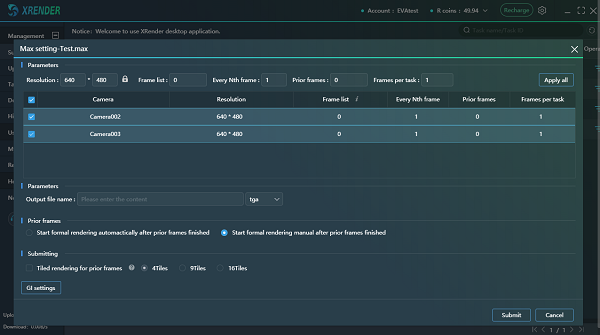 If the status of your file is"Analysis warning", please check the prompt and decide how to deal with the warning based on your projects.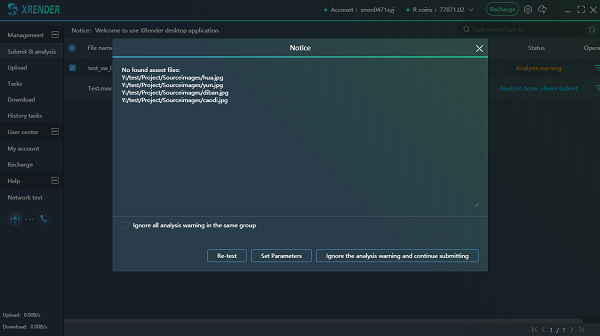 If the status of your file is"Analysis failed", please optimize your files according to the prompts or contact online customer service .
About parameter settings
You may adjust the basic parameters about rendering in this panel according to your needs and click submit to upload your files.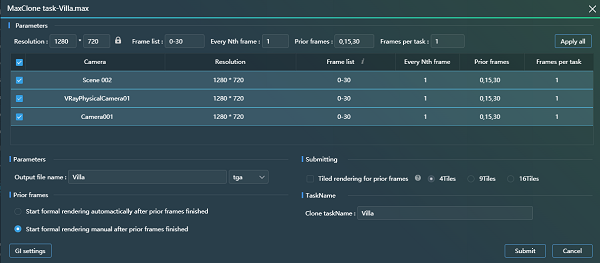 About task uploading
You can check your task details at [Upload]. The task will start rendering automatically after uploading finished.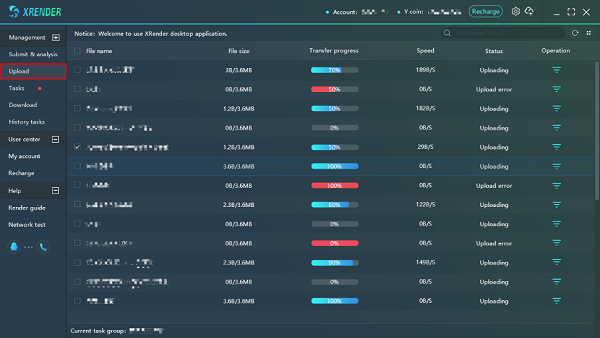 ---
Rendering
XRender client will render the prior frames first, which are usually the first, middle and last three frames for 3d creators to check the render effect. This feature helps to avoid unnecessary loss of cost and time. What more, users can adjust the prior frames according to the demand.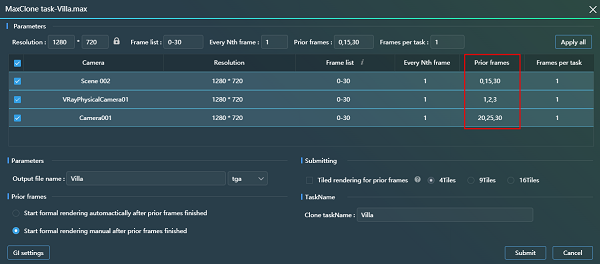 Double click the task or right click the task and choose the [Task details] to view the task details.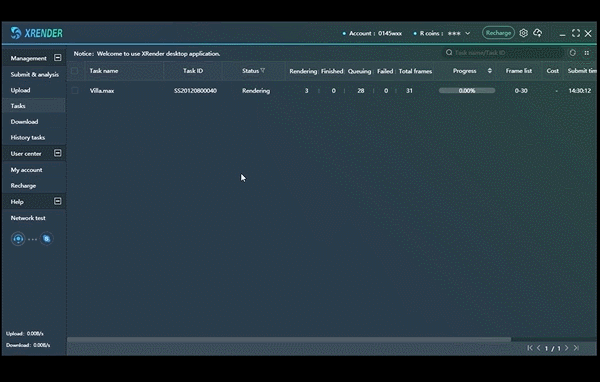 If the rendering effect is correct, you may render your project at full speed.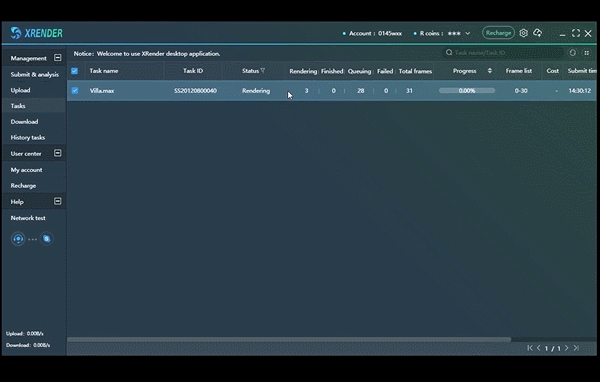 ---
Check render results
Right-click to open the output path and check the render results.