XRender Dedicated Features
---
XRender Dedicated Features
The product and R&D team of XRender constantly polishes the products according to the needs of users, and is committed to providing users with the best cloud rendering experience. Take a look at some of the XRender dedicated features that are developed to improve the rendering process, reduce rendering time, lower rendering costs, optimize rendering experience, etc.

---
Prior Frame
Prior Frame refers to the first, middle, and last three frames in the sequence. When submitting a project in XRender for cloud rendering, the system will enable this feature by default and give priority to rendering these three frames of your project. When the rendering is completed, the project will pause the rendering and wait for you to confirm the effect.
This feature enables you to get and check the rendering results in advance before rendering all the sequences, which is helpful to save time and money when the rendering results are abnormal.
Prior frames can also be set according to your needs. You can change the prior frames of the all tasks in the general setting panel: ① change prefered number of prior frames and ② choose to start full-speed rendering of remaining frames automatically or manually.

Or make specific settings in the parameter setting panel for different tasks accordingly each time you submit a new task.
---
Tiled Rendering
XRender supports render priority frames in tiles with multiple nodes at the same time to improve render efficiency and get the render results quickly.
Supported numbers of tiles including 4 tiles, 9 tiles and 16 tiles, which you can enable by default in XRender general setting panle: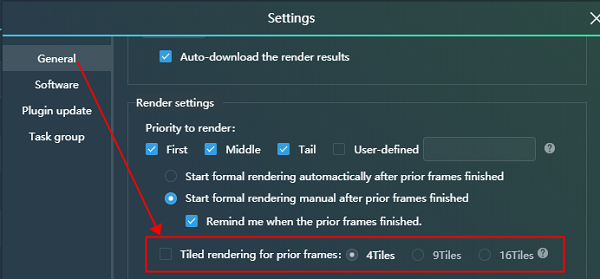 Or set the number of tiles each time you submit a new task when render prior frames: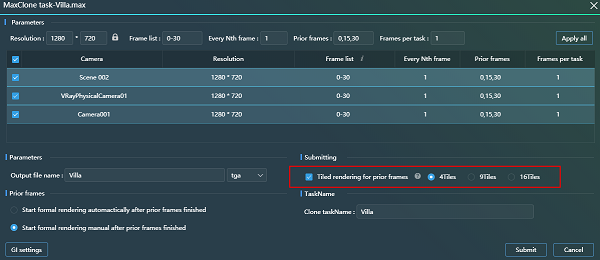 Tiled rendering now only supports:
All 3ds Max files.
Maya files use Arnold, V-Ray or Redshift renderers in .exr format.
Houdini files in exr. format.
---
Sub-accounts Management
XRender has developed the multi-level account system to enables users to create multiple sub-accounts that can be managed by one master account for better team management.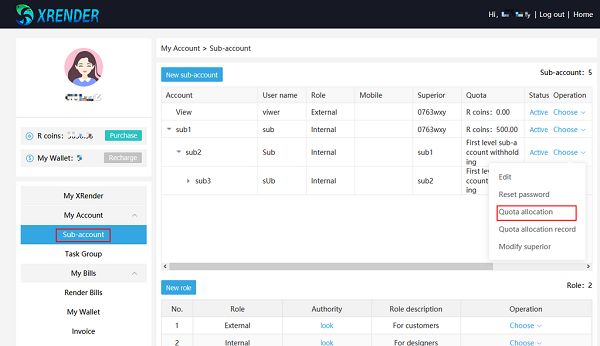 The master account may has controlled multiple sub-accounts that are under using. In order to prevent uncontrollable task rendering, information leakage, or keep some of the functions that XRender supports remains closed to employees, authorities can be configured for each sub-account according to management requirements.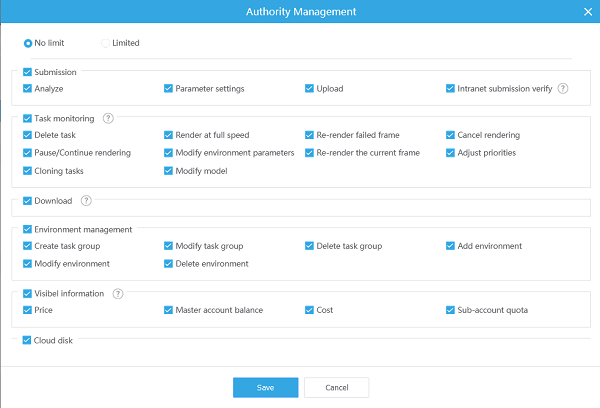 Note: only one sub-account can be created by new users and if you are in need of more sub-accounts for bigger team management, please contact us for more help.
---
Save Loading Time
For projects with short single frame rendering time but long loading time, set the parameter called " Frame per task " in XRender, which decides the number of frame each node will render, might help you decrease the loading time.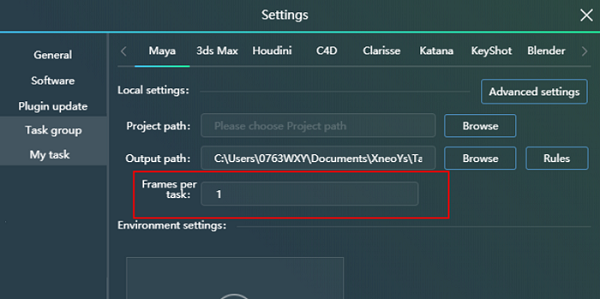 The basic logic of node to render frames is a loop of open the file, render one frame and close the file. To increase the number of frames each time one node render helps to decrease the times of the loop, and this is how this helps to lower the render process.

---
Task Clone
If you have already finished task analysis and uploading, but made some mistakes while set parameters before rendering, or you are satisfied with the render effect of low-resolution priority frames and would like to render the remaining frames in high-resolution, the "Task Clone" feature is of great help to short the whole process.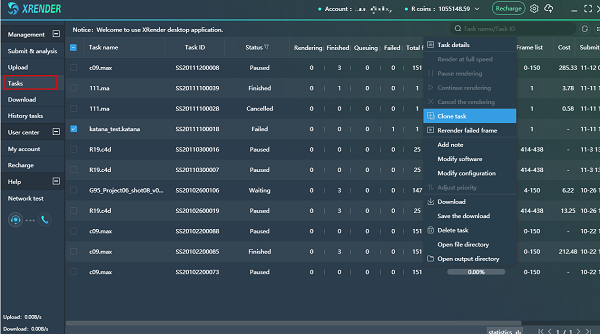 It will skip both the step of task analysis and the step of uploading. All you need to do is right click the task you need, choose clone task and set the parameters according for rendering.
Updated in version 2.1.2, May 26, 2022, a new "Machine" option that allows users to adjusting render machine directly in the task clone panel is opening to all. You may now choose what the kind of render machine you would like to use according to the urgency of the tasks in Task Clone Panel (the option is available in both XRender desktop and website user center).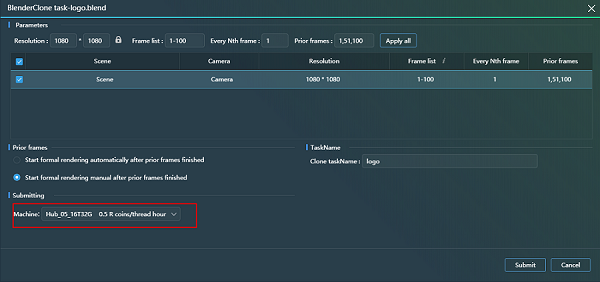 ---
Timeout Warning
The "Render Time Warning" feature will notify when render time exceeds the expected value set by the users with a Timeout tag and user can check the task first and then modify it accordingly: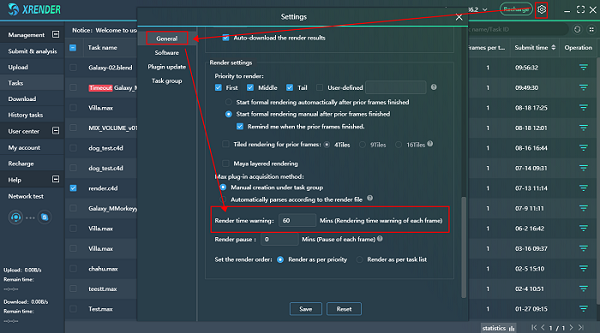 Use the "Render Pause" feature to notify and pause the frames that have not yet started rendering automatically if any rendering frame in the task is found to exceed the preset value. This will help reduce the worries of users who are busy with creation and don't have time to pay attention to the rendering progress or users whose rendering tasks are carried out at rest time like midnight.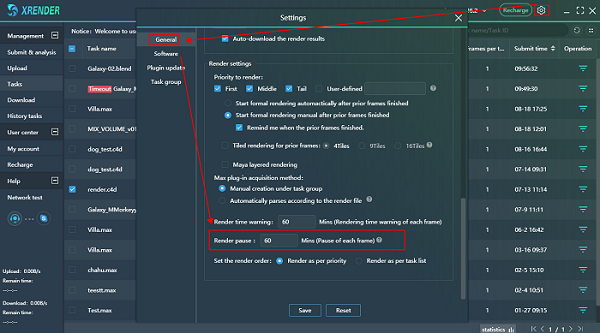 ---
Render Preview Player
XRender enables users to preview the rendering results, before any video editing, in a continuous sequence, just like a completed video: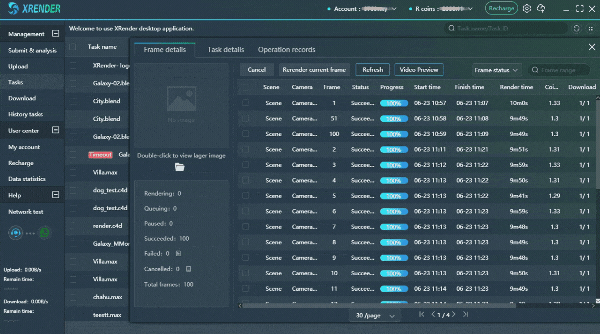 The Video Preview feature is available for all software that XRender supports rendering for. For users prefer to view your render results according to layers or passes, you may switch as needed between the name of layers and passes on the left of preview panel.